TAXI AYERBE, servicio de taxi para Ayerbe, Comarca Hoya de Huesca (Aragón - Spain). Transporte de viajeros hasta 8 plazas. Reino de los Mallos, Comarca Hoya de Huesca, Castillo de Loarre, Colegiata de Bolea, Loarre, Bolea, Santa Eulalia de Gállego, Biscarrués, Murillo de Gállego, Salinas de Jaca, Villalangua, La peña, Mallos de Riglos, Río Gállego, rafting, escalada, senderismo, naturaleza y setas, micología. Bodegas del Reino de los Mallos, catas y degustación de vino de la tierra, ribera del Gállego. Servicio estación intermodal de Huesca y aeropuertos de Huesca y Zaragoza.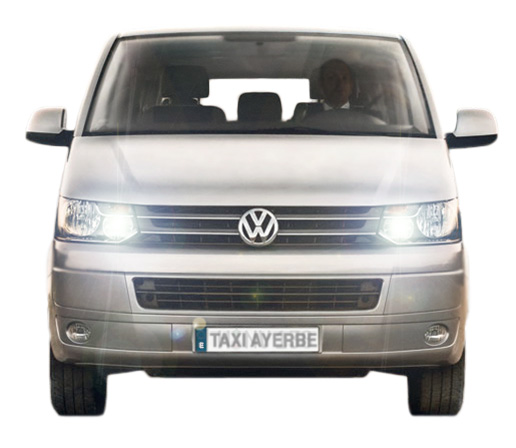 TAXI Service for Ayerbe and arround, 30 km from Huesca, Hoya de Huesca region, next to the main tourist attractions, cultural, gatronomics of the Ribera del Gallego caves. Halfway between Huesca and Jaca, through the port of Santa Barbara or San Juan de la Peña, an area steeped in history, landscape and culture but also sports great attractions.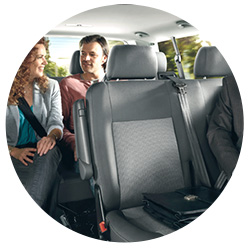 Up to 8 seats
Our TAXI has great ability, if you need.
Access Steps
Provides access to the elderly or disabled.
Roller blinds
These curtains retractable, provide a sun protection.
Climatronic
Ensures a uniform temperature throughout the cabin.
Connecting 12v
For long trips, you can use multiple connections.
Wi-Fi 3G
From our smartphone, we can give you internet access (*as coverage).
Handsfree
The phone is no problem, eyes continue on the road.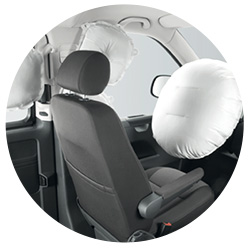 Security
Side airbag, ESP, ASR, safety fisrt.
Environment
Our car has low emissions new "Euro5" engines.
Our TAXI service
Although we are always at your disposal, you should consult our availabilities or book in advance if you have to be on time for an appointment to avoid inconvenience due to the overlap of some services.
Our taxi, is not a normal vehicle, it is one of the most secure and comfortable vans on the market, able to offer the same convenience and speed than any other car.
As for the price, we must live according to the official rate each year is the Ministry of Transport, counting the kilometers traveled and the waiting time of each service. The cost is the same whether we traveled to full load as if one person travels. Our taxi can accommodate 8 people, so you can share it to save the cost.
Regular servicies
Agreements and contracts with institutions:
Transporte Escolar C.P de Ayerbe: DAILY.
Villalangua, Salinas y La Peña: TUESDAY. Gob. Aragón
Comarca Hoya de Huesca (Social Services)
Agreements and collaborations
We collaborate with leading insurance companies in the country:
MAPFRE
PELAYO
ALIANZ - GLOBAL ASSISTANCE
CAP / ARAG
Contact and location
Phone: +34 695 599 786
Ver TAXI Ayerbe en un mapa más grande
Jasmin Fernandez Fama. Plaza Ramón y Cajal 34 - 22800 Ayerbe (Huesca) Aragón - Spain
© TAXI Ayerbe